All I can say is WOW!
This stuff works as advertised!
What we have here is DuPont-Nason products applied in the following order:
First, I applied Ful-Poxy. The same stuff Bret has been using all along.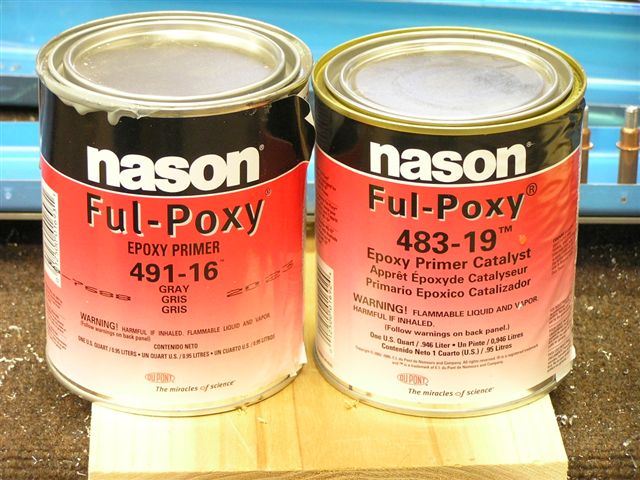 It is absolutely INCREDIBLE, but I get a rash every time I am exposed to epoxy ANYTHING! The stuff is durable, cost effective and available at the local auto store!
That is one thing I like about this Nason stuff. I can order it locally and conveniently at the nearby CarQuest store. Not bad!
Step two is to SEAL the primer. They have an "X-Y" primer that PRIMES AND SEALS, but I hastily purchased the wrong one, not having thoroughly read the tech sheets. Oh well, so I now need sealer.
I used the 422-23 Ful-Seal Select. It is a one part, just shoot it stupid sealer. It is really hard to screw up. It works really well. The only problem is, it matched my topcoat SO CLOSELY... it was hard to tell which was which when I was finishing the system! No problem, just work the wet spot... much like most things in life!

Step three is the top coat. Nason has a single stage product called Ful-Thane. It is a typical 8-1-2 mix like most urethane products. 8 parts product, 1 part catalyst, and 2 parts reducer. The guys at school say to go heavy on the reducer for a smoother, more trouble free top coat. I agree with them. It levels better and is more resilient to dry shooting. That is, having the paint dry on it's way from the gun to the substrate.
This is what it looks like:
This is the final color of my interior finish. It is a haze gray, like a military ship.
I coated the 705 seat back as well.
I have a smooth, clean finish that is VERY durable and attractive! It has a gloss to it, but the color is a solid and very anti-reflective.
I think it should serve well as an interior coating. I was planning on the Aero Classics interior, but this is less costly, lighter and easy for me to do. I may do some interior trimming, but this is a great start!
Now to put this whole thing together!
Hindsight... I shouldah installed the dubblahs for the belly mounted bent whip antennas before now. I think I will work on those now that access is easier than it will be later!
Anyone have any tips on that?
I am thinking of installing the plates in the same location as this fellow did on his -7 that I saw while down in SnF this year.
I am in need to 2 doubler plates 0.040" thick aft of the 704, I surmise.

CJ