At home, or in a good booth.... fly first or paint first?
these are the questions that have haunted me since I started this build. I decided long ago to paint before I fly. Then I thought I would do it myself at home...then after looking at material costs and talking with a friend, Corky who runs a body shop, I changed to painting it at his shop under his direction. Next decision was single stage or base/clear. Cost entered the equation about now. Some of single stages are very inexpensive and could probably paint my plane for $1000 in materials. I knew I wanted a good durable shine and showed Corky my prop, he suggested a few Base Clear systems from PPG and also Dupont. Cost was a little more but shine should be a few notches better. Also time in the shop & booth would be reduced with a Base Clear product.
So fast forward to this week. Wings are prepped, primed and ready for color, but the paint supplier messed up and sent the wrong stuff. We had wings in the booth with the clock ticking. I made a 1.5hr roundtrip run this morning to pick up the right stuff.
11am Corky is laying the yellow base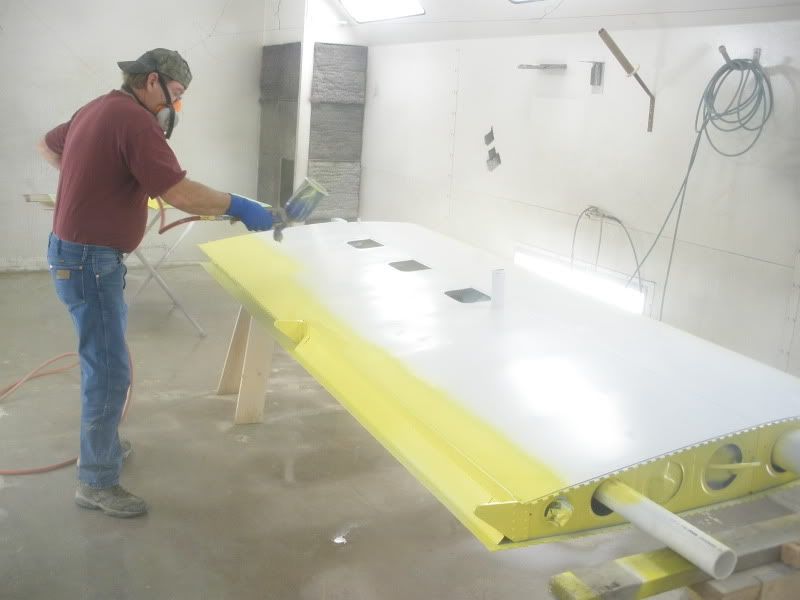 After the yellow flashes off we put the wingtips in place and start laying stripes
Here I am making a template for transferring the stripes