What is a good mechanical fuel pressure?
Thanks
Dave
---
fuel injected or carb?

FI requires a high pressure fuel pump. Mine puts out about 25-30 psi.
Carb is much lower. Something like 4-6 psi.
---
---
Sparky
Posts: 5879
Joined: Sun Oct 31, 2004 9:17 am
Location: KPYM
Fwiw...
I am seeing about 28 psi also.
Are you having problems Dave?

CJ
RV-7
Garmin G3X with VP-X & a TMX-IO-360 with G3i
It's all over but the flying! 800+ hours in only 3 years!
---
No real trouble just a high reading from Dynon SV. It was reading about 41 lbs. and we put another meter in the system and it was read about 29 lbs. So I figured it was the transducer and not a true value. I am not sure if I will put on the transducer or just leave it alone and understand the difference.
Thanks for all the help.
Dave
---
Class B
Posts: 1000
Joined: Wed Feb 09, 2005 10:00 pm
Location: KEWB
Can it be adjusted in the software ?
Change the transducer ?

I occasionally get slightly high fuel pressure when the boost pump is on during take-off. (about 30), then it settles back down to about 25-26 after I shut off the boost pump.
Dave "WS" Rogers
RV-8 (125 hrs & counting)
N173DR
---
I ran into a similar issue with the VDO fuel pressure sensor. Normally my fuel pressure is between 25-30 psi. Earlier this year it would sneak up to 36+ PSI out of nowhere, as seen below.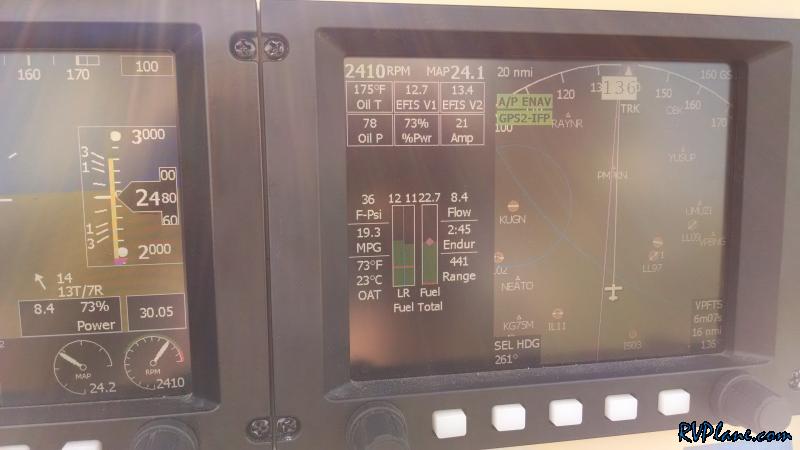 I swapped out the sensor and the issue was immediately cured. It was an interesting failure, because most sensors I have had issues with usually read on the low side. I would recommend fixing the issue. Although you could always do some corrective math in your head, the sensor will most likely continue to degrade over time. For such an inexpensive part, monitoring a vital part of your engine functionality, I would think it makes sense to get it right.
Mike Bullock
http://www.rvplane.com
RV-7 | Superior IO-360 | Whirlwind 200RV
Garmin GTN650 | GRT Dual Sport SX EFIS
Status: FLYING!

---
---