Huge milestone today as far as I'm concerned. I riveted the leading edges!
The riveting went great. Unfortuneately, on the very last rivet on the first leading edge (on the top naturally) the rivet gun slipped and put a small dent in the wing. Probably some bondo before paint can fix that.
So after I riveted both leading edges, I was so happy and excited so I took the blue plastic off the skins. That's when the terror set in!
Stupid leading edges of the ribs!! They look like they are trying to poke through the wing! I've read about this on other threads so I spent a lot of time filing around the leading edge of each rib to make them smooth.
That work had no affect. They looked terrible. My wings look like a tube and fabric wing! Here's some pics...but remember, they look 10 times worse in real life. It's hard to see the outwards dents in the photos...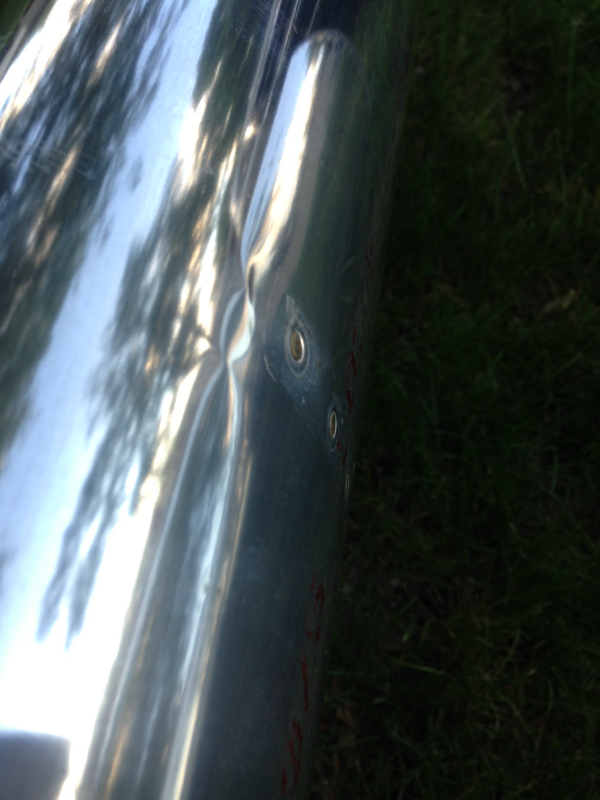 I know that the shiny aluminum shows every tiny microscopic flaw, so I scuffed the areas up and sprayed them with primer to see what it might look like once painted. They do look a lot better with the primer on it. Almost unnoticeable.
I'm not sure how to prevent this when I go to rivet the tanks together. What's the trick? Surely other builders have thought of ways to prevent this.
My whole goal for this airplane is come in from the garage one night with a smile on my face thinking, "man, that work I just did looks awesome!" But it seems like everytime I get something done I come in disappointed for the night.
I definitely liked building the tube and fabric planes much better.